Assessing Your Business Competition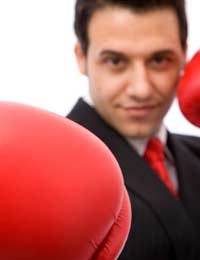 Know the Market
As with any business, one of the key factors in making the enterprise work is to know your enemy. Your enemy in this case being direct competition.
Competition can appear in many forms. If you specialise in a certain type of event, for example, then your competition is wide spread and you need to identify other companies that offer the same thing all over the country. But if you offer a more blanket approach, and source your clients locally, then your competition is going to be more threatening on the basis of geographical proximity. You will need to identify your competition in order to engage in a little market research, to find out what they're up to.
Why Identify the Competition?
Unless you know what your competitors are up to, you will find it hard to judge how to present and price your services and supplies. If you have a cost plucked out of the air for, say, a team building option, and then the client finds they can source exactly the same thing down the road or with another company at half the price, you're definitely going to lose out.
It's not just about pricing wars though. It's about how you present what you offer. How you can make it better or more attractive, and of course who you present it to. In short, without knowing if your costings and marketing strategies are hitting the right notes, you're going to find it much harder trying to make a success of the business.
How can you Identify the Competition?
The internet makes this easy for you in a lot of ways. If you're the kind of company offering a very specific service, like team building treasure hunts or only a certain type of theming, then searching for other companies by service online is a good place to start.
If you're a more generic events company and you are keen to be competitive locally then again the internet can help, but also good old Yellow Pages, the local Chamber of Commerce, Business Link and any corporate networking groups will help introduce you to similar companies. Yell.com can help here too.
There is also a fair bit of information you can download from Companies House, which will tell you how long a company has been trading, have details about their accounts and so on.
What Should You Do Next?
One of the easiest ways of checking out the competition is by employing a bit of mystery shopping. This is simply a case of contacting your suppliers incognito – it could be you, or also easily someone employed by you – and requesting details on the products or services that you are competing with them over. Of course you will find if you give them your own company details that they are unlikely to be forthcoming with the information so engage in a little subterfuge! Enquire by phone or email and just offer private addresses for either to receive details, and give only mobile phone numbers. Most companies accept they are going to be 'scoped' sometimes for information from enquiries that are not necessarily genuine so don't feel too bad, it's just business.
Top Tips
Get hold of their company literature if you can, that will help you see how they market themselves, and always look at websites. Keep a record of all the information you gather, it's always important to have notes to refer to.
Sign up to newsletters under a personal email address. This will tell you all about their activities and keep you up to date with their developments.
Finally make sure you use the information to your advantage. If you see a way something can be improved upon, or where a cost can be cut, you will have the edge on your competitors. But don't forget, if you don't market that fact, it's worth nothing so make sure you take advantage of the opportunity.
You might also like...