Event Conference Bookings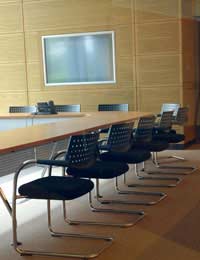 When starting your events company you'll have put some thought into the types of events you want to run. It's a mistake to try and offer everything, and even if you start out that way, the chances are you'll naturally gravitate towards specific areas of expertise. It's difficult for example, to be the kind of company that specialises in hen and stag party bookings and then also try to be the smart face of corporate conference bookings.
Conferences
Companies that organise conferences tend to specialise in this area, rather than attempt to do other kinds of events too. Just like all types of events, they're run in a particular kind of way, and building experience in this field will take time. Many larger conferences will be run by associations or institutes and large companies, and very often they'll have in house conference teams, so you need to understand how to service their needs. But smaller conferences can require the full services of an external organiser
What's Involved?
When looking at a conference, you'll need to think about the right venue. Not just in terms of whether the space is big enough, but does it have the right amount of bedrooms, is it the right location etc. Also, how accessible it is for delegates coming in from multiple destinations. Will you need to organise their travel itinerary and do they require transportation logistics for production or crew?
Look at the number of delegates and how many break out spaces you'll need. Also think about the flow of the event – maybe you'll have a need to put together team building activities or a gala dinner as part of it. it might be easier to outsource this to other event companies that specialise in these kind of options – particularly if the dinner requires the event to be dressed or themed, or the team building is for hundreds of people! Get some help and focus on getting the conference right
Site Visits
Really important is to arrange for your client to see the venues they are interested in and you can often ask the venues to support this by offering overnight accommodation on a complimentary basis to enable the client to see the space. Try to book all the site visits carefully, looking at location and working out how long you'll need at each venue. The time it takes to get around will vary from client to client, so give yourself enough time. The client will not appreciate feeling rushed!
Negotiation
If it's a good sized conference, the venue will usually be prepared to negotiate, particularly if overnight accommodation is included, so go in and bargain. Remember you're acting on behalf of your client so you need to remember to operate in their best interests. Haggle – you can get prices dropped and additional extras thrown in a lot of the time, but if you don't ask, it won't happen!
Audio Visual Equipment
Some venues will offer an in house team for AV solutions, but if you have a company you have a relationship with, make sure they see the event spaces too. Experts in this field will be able to help you provide a detailed quote much more easily if they can assess the conference space themselves
It's all about Communication
As with all event management, the clue is in keeping your client informed and involved and ongoing liaison with your venue and suppliers. Keep in regular phone contact and make notes as you go along. Keep a written record of everything, and you won't get tripped up later on
You might also like...