Running a Themed Event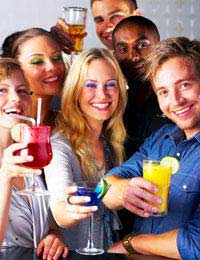 Once your events company is up and running, whatever sector you're involved in, whether it's weddings, corporate events, children's events... one thing that is always popular and you're bound to get asked for, is themed events. People really love to dress up and enter a world of fun and fantasy - and it's a good idea to think about this and what kind of themes you might be able to offer. Of course you might think that if you're a conference booker this won't be your area, but all too often the end of conference event could be a gala dinner and there could very well be a theme attached!
What to expect
As with all areas of events, there are varying levels. Some jobs will come to you with a requirement for full theming throughout the event, where the guests will dress up, the room will be completely transformed, perhaps even the menu created to reflect the theme. Other events will be more low-key, with perhaps a simple requirement to create, say, a black and white theme. The latter is fairly easy to execute – think of your linen, the colours of your event. But with the full blown theme job, unless you're experienced in this area, it's probably a good idea to turn to an expert
Engaging an expert
Theming requires a good eye, lots of experience and a creative flair. There are many events companies that offer a theming service, and assuming you're not one of them, you may wish to bring in the experts to help you. They'll look at the brief, and the venue, and put together a proposal which may include draping and props, performers, certain types of food, special lighting, acts and music – talk it through with them in detail, giving as much information as you can about the client and the event itself. And meet with the venue and your theming expert too, so that any restrictions that the venue might have can be taken into consideration. Many venues will not like you pinning their walls or using certain areas for draping for example.
Check the expert's experience, look through their portfolio – a good company will have photographs of past events. Make sure you're happy with their previous work
Doing it yourself
You'll make a lot more money by doing the theming yourself, but it is hard work and takes time to put together, particularly if you're not accustomed to doing it. Draping is a key way to make a difference to a room but you will absolutely need experience to do this, so it may be that you pull together components from other companies to create your finished product. For example, a draping company, lighting and AV, linen and catering, props and table decor – they can all be brought in and you simply assemble the overall look and feel, creating the mood board and presenting your client with 'your' theme. Know your limits with this, and make sure you don't try to do anything that you don't feel confident about.
You might also like...