Advertising Your Event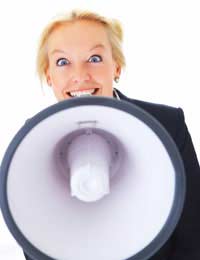 In the event management world there are two types of event structures. One is events that you might do on behalf of another third party – such as a client or perhaps your department at work. The other structure is those events that you might put on yourself.
Depending on the sector you're involved in, running your own events varies considerably. You could be a music festival promoter, or perhaps you run your own conferences specialising in a particular product or service. There are events companies specialising in hospitality packages such as groups to the large sporting events, where they have purchase blocks of tickets and sell them on to guests, and there are companies that offer very specific training events for example in the fields of finance or health and safety.
Whatever your event is, the absolute basic fact is that you're going to need delegates or guests to commit to attending, and also to commit to spending money on the required entrance or booking fee. As it's your own event the chances are you will have committed to or laid out financial investment of your own – plus the time you will expend promoting the event, so it's important you generate a way to recoup that outlay.
Do some Research
The most important thing to consider is whether or not you have a decent proposition. Are people going to want to attend? Have you actually put together something of value that people will enjoy attending or benefit from? It's always worth doing some market research before launching into producing your own event. After all, if you're working on a client event, the financial pressure is on them, not you. But if you're putting your own finances behind a project or product you want to do your very best to ensure it's going to be a success. In order to do this you really need to get a head start by making sure it's a worthy venture.
Generate Interest
Think carefully about your target market. Who is going to be attending your event? What kind of people are they and how can you reach them? There are ways of reaching your market – advertising, PR and marketing. It's important that you generate interest in the right areas.
Advertising
Think carefully about who is coming. If you're looking to target solicitors, say, about a new workshop or conferences about a new piece of government legislation, it's unlikely you'll get the best response from a lifestyle magazine. Pick targeted publications in the relevant sector. Think also about whether you're looking for local or national interest. Remember too that particularly with independent publications that you can often haggle on the price and also negotiate some editorial to generate even further coverage. If you're thinking about radio, make sure your ad is heard at the right time of day. Who is listening?
PR
This might be something you do yourself, or contract an outside PR company to handle, but as well as advertising, it might be worth considering aiming for PR too. This can give you coverage you don't pay for in the same way as ads, although of course if you use a PR agency you'll be paying them. But you can achieve different coverage – interviews, stories, competitions... often the reader will find they connect better with this than a straight ad.
Marketing
The rest of your promotional activity falls into this bracket. This could be flyers and posters, it could be door drops or the creation of your website or newsletters. Networking, word of mouth and direct sales also fall into this category. It could even very easily be a blog.
Streamline your Sales
Finally, make sure you can handle your sales. Booking forms and terms need to be available, the venue needs to understand exactly what is happening. Tickets may need dispatching or deposits and financial records kept up to date. There can be a lot of admin just handling the delegates so be prepared for that. Of course, you will need to run and facilitate the actual event, so don't forget that side of the planning either!
You might also like...