Utilising Trade Fairs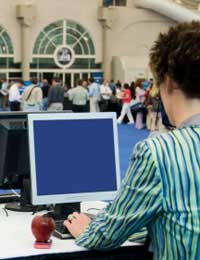 Trade fairs are an extremely useful tool for all sorts of things when running a business. Most industries have trade fairs that relate specifically to their field of activity and the events industry is no different. You can find out the details about these trade fairs by doing some research, and whether you decide to attend as a visitor or exhibitor they can be invaluable for promotion and research.
How to Find Out About The Right Trade Fairs
Choosing the right trade fairs is important, whether you're a visitor or exhibitor. Your time is too precious to waste traipsing round irrelevant stands and your money definitely too precious to waste on a stand when you're presenting to the wrong people!
Check out the relevant trade press as trade fairs will definitely be advertised and covered by these. Event press websites also offer information about trade fairs. Ask suppliers and clients about trade fairs they have exhibited at or visited.
There is a Trade Fairs and UK Exhibitions website which has comprehensive listings for all events throughout the UK, but you can also look out information from exhibitions venues and your local Chamber of Commerce
Why Exhibit at a Trade Show?
Apart from the opportunity to demonstrate your service or product to a captive audience a trade show can give you a chance to launch new products, meet buyers face to face, network with other exhibitors and test the market. It's also a great place to meet trade journalists and to invite existing clients, helping you cement active relationships with a face to face meeting in a conducive environment.
Pitfalls and Checklist
As an exhibitor you need to demonstrate that the stand is good value for money, and measure the return you get from it carefully. It can be a costly activity, exhibiting at trade fairs, as it's not just the stand space costs you need to consider. You will need to either pay staff to man the stand or do it yourself, effectively taking yourself out of a normal working routine to cover it.
You will need to eat during the day which can be pricey, and if it's away from your home town, accommodation can be an added cost. You might need promotional material for the stand, including leaflets, banners, pop up stands and business cards. Make sure you know what you want to achieve from it, and keep a close watch on what kind of enquiries you get and how you follow them up. Be sure you know what you need to win from the show to make the investment worthwhile.
Making the Most of Your Stand
Make sure you think about your display and how it looks. Trade fairs can be full of competitors so make sure you stand out from the crowd. If you're launching a new product make sure you've got relevant literature or your visitors will forget as soon as they leave the building, and try to make it interesting and eyecatching. You'll be up against others working a similar corner.
There are event specialists who can help with this, getting the most from your stand. They advise on display, can supply experienced staff and help with promotional material design and distribution. But with some thought and research you can make it work yourself.
Going as a Visitor
Attending a trade fair as a visitor is an extremely useful way to research the market and keep in touch with the events industry. It's also a great way to find new suppliers, to generate new ideas, check out the competition and network.
Make the effort if you're not exhibiting to get to the notable trade fairs within the events industry. Each sector within the field of events will have its noteworthy exhibitions and shows, so do a bit of digging and make sure you get to the right ones, whatever you need to achieve from the visit.
Go with a clear objective. Plan your timing, look at the exhibitors list in advance and make sure you get to see those that are of interest, and keep notes and collect promotional literature. Ask for business cards and make sure you take yours too, to hand out to contacts who interest you.
You might also like...