Private or Corporate Events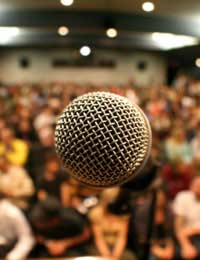 Events companies tend to fall into two categories, private or corporate. It's generally accepted that most do one or the other, although there is often crossover by default. Your client at the bank for example might ask you to do his daughter's wedding or birthday party, and you'd be hard pressed to refuse to help! But the two things are pretty different and it's much easier to specialise.
Within each sector there are opportunities to break it down even further and many companies specialise in one particular event management factor.
Private Events
If you are a company that offers event management services for private events you will need a fair bit of patience. Whether it's a wedding, christening, hen party or birthday event, the biggest thing you're going to need to remember is that you're working with someone's own money.
Working with money out of your client's own pocket does of course mean you are going to have to be careful with it, and be able to show exactly where every penny is going. Their hard-earned cash is going towards making what is a very important event for them – whether they're getting hitched or celebrating a coming of age – it's a very personal experience and you will find it is more often than not extremely labour-intensive. Patience most definitely is a virtue!
The advantages of offering private events is that it can be extremely rewarding. You're likely to build up a good working relationship and hopefully a good rapport with your clients, and making their big day into exactly what they wanted is a very satisfying job.
Corporate Events
Offering corporate events has its advantages in as much as it's a bit more clear-cut than private work. When you put together corporate events you're working with a company or department budget; it's limited to what they can offer you to spend per head and it's very possibly the case that the department or event booker will arrange events and use event companies all the time. It's not always the case of course but you will get a more clear cut approach.
Having said that, as the market gets tougher and there are more and more event companies springing up, competition is fierce and margins are often not as high as they used to be. You will find you might to work very hard to win accounts unless you have a unique position – a completely unique product perhaps or that you operate in an area without competition.
Another issue is that many companies, recognising that it's an added cost, are employing their own event managers, to keep the costs in house. This is true especially for larger corporations who may do many events throughout the year. Pay one annual salary rather than several event management fees? It's easy to see the logic.
Types of Events
If you're looking at private events, they tend to fall into the categories mentioned above – weddings, parties, hen and stag events and so on. Very often catering companies will cover this area, being the first port of call in many events, so if you're thinking about offering a private event planning service it would be a good idea to build a close working relationship with at least one if not more catering companies and you can support each other.
Corporate events can be more varied in terms of what you can offer within each type, but broadly you're looking at conference booking, team building, corporate parties (themed or not), product launches, incentives and exhibitions. You will need to think about what kind of business you plan to go after and try to specialise if you can, otherwise you will end up with a scattergun approach which might not work. Above all you need to strap yourself in for a rough ride – the events market is highly competitive and you will need to have a sound game plan to step into the arena
You might also like...