Setting Up a Limited Company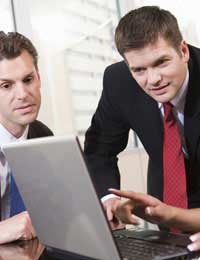 What is a Limited Company?
Most small businesses set up as a limited company, and 'limited' in this case means just that. The company's liability is limited should things go wrong and the business end up having creditors.
There are two common types of limited company in the UK – the most common being limited by shares. This means that there are shareholders within the company, the shares are not for sale to anyone outside the company, and if the business fails the shareholders are only liable for a sum equal to the initial investment or capital put into the company.
The other type of limited company is that limited by guarantee. This is used more often than not for non-profit making companies and means that there are guarantors who undertake to pay a certain amount, usually quite small, to creditors in the eventuality of the business being wound up. For an events company you are far more likely to want to set up a company limited by shares.
How to Set it Up
When you set up, or incorporate, or register a limited company you will have several documents:
Memorandum of Association - which gives details of the company and what it does
Articles of Association - which outline how the business is to be run, who the shareholders are etc.
Form 10 which is the Statement of the First Directors, the Company Secretary and the Registered Office
Form 12 which states that the company meets all the requirements for incorporation.
Registration can be done either by approaching Companies House yourself for guidance or there are formation companies that can assist with your setting up. You can find either through the web or your local Yellow Pages under Company Formations.
It is possible to find companies that offer already incorporated companies for sale, 'off the shelf' if you like, that have been registered incorrectly – a very common mistake is misnaming the business. Buying one that has been wrongly incorporated can often save time and money setting up as all the necessary paperwork has been filed already, all you need to do it buy the company and change the name.
Responsibilities
Once the company has been formed and registered and all the necessary paperwork set up, as a limited company there are certain responsibilities you have to fulfil. You should display the company name outside the office and on all stationery, receipts, invoices and cheques, as well as the company's registered office address and registered number. Also display the web address if you have one, an email address and VAT registration number if relevant.
There are also annual accounts that might need filing with Companies House, and an Annual Return, and additional paperwork you should discuss with your accountant such as that relating to Corporation Tax, or PAYE and National Insurance which will be relevant if you have staff.
Above all the company must follow the guidelines and rules that apply to the good business maintenance that goes with running a limited company. Just because the liabilities are limited should anything go wrong, this does not give directors an excuse to enter into the business with a lasses faire attitude! Loans or investments will need to be guaranteed and may still be repayable even if the business is wound up, so be aware this is not some kind of 'get out of jail free' card!
You might also like...