Drawing Up Relevant Contracts for Events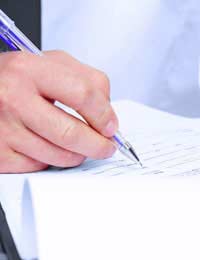 As with any business it's important to protect both yourself and your client. Although event management is largely based on organisational skills, there are always things that can, and do go wrong on the day, and you'll want to ensure you're fully covered for this. It's also a fact that people will renege on arrangements or fail to deliver what they promised, and for both these reasons, and many more, it's vital that you have contracts to cover you.
Contracts with clients
Firstly you will need to look at the contract you will have with your client. This does two things. Firstly it commits your client to the job – whatever the terms of your arrangements are, this is the legal document that your client will sign to say they concur with those arrangements. Secondly it also commits you to doing the job to a certain degree, but will cover you for things that can potentially go wrong.
When drawing up contracts, it's vital really to get professional legal advice. Especially with the restrictions that the new Corporate Manslaughter Act and the effect that will have on the events industry. All clients will expect you to supply a contract and you should make sure it's signed before the event takes place, as without this you have no protection.
In many cases, the contract can be a relatively simple document which both parties sign to say they agree to the terms. It's your Terms & Conditions which are the important part. The contract may state what the job is, the date, the sums involved and so on, but it will be your Terms that govern whether you're protected adequately. The Terms can be issued as part of the contract, or as a separate document, but the client will need to see these too before they sign a contract, to ensure both parties are happy with any restrictions, stipulations or conditions applied.
Here are certain areas that should be considered for the events industry
Services provided
Somewhere – whether it's part of the contract or part of another document, say, a Schedule of Services – you should have presented clearly to the client exactly what is being supplied by you. The Terms should refer to this to ensure that both parties know what's being supplied and the client agrees to it.
Cancellation policy
Sometimes things just don't go ahead! Cancellation policies vary and most are on a sliding scale – the closer to the event, the larger the penalty.
Variations and post event changes
There can often be changes to an event on the day or during the duration. There should be clauses that cover the way these changes are handled.
Payment terms
The events industry largely enjoys an advance payment situation, often with a deposit on signing the contract and the balance before the event. Ensure this is clear in your contract and terms.
Loss, damage, negligence etc
At the event, things can often go wrong, your sub-contractors may not deliver what they said they would, equipment could get damaged, etc and so you need to ensure this is covered too. What goes into this section of your Terms will depend on the kind of events you offer, but bear this in mind when putting it all together.
Contracts with suppliers
As with your clients, there will also be contracts with your suppliers. Realistically, if they wish to cover themselves it's up to them to supply you with a contract the same as you would to your client. But as the event coordinator, it's often wise to have your own supplier contract too. This binds them to the terms of your booking agreement, ensures they carry out what they've said they'll do, and provides you with recourse to act should they fail to deliver what they promise.
Talk to an expert about both of these things, and ensure that you have a professional, well-thought out contract for both sides of the business and you will provide yourself with some peace of mind!
You might also like...