Handling the Pressure of Your New Business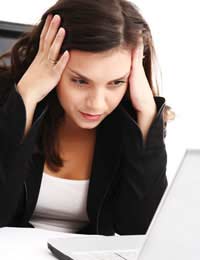 With any job in business that has responsibilities comes pressure but there is nothing compared to the pressure of running a business. Apart from the day to day challenge of actually addressing the work and ensuring that the job is done properly, there are all sorts of other considerations.
Financial Strain
Unless you have a generous benefactor or a fairy godmother, the primary two concerns for business owners, whatever the size of the business, is worrying about money, and not having enough hours in the day.
With money, the burden is brought to bear through the pressure of investing or borrowing and having the responsibility of owing and replacing those funds. Deciding how the money side of your business is going to work is important to ensure you have chosen the right methods for creating and furthering your business. Investment can be good for some businesses, as this can give healthy lump sum injections. But whether it's your money or someone else's, remember to plan for it wisely and also be aware that dividends will need to be paid out. Perhaps you have invested your own money – all your hard earned savings, or a bigger mortgage on the house. Whatever it is, the pressure then is to work hard to make sure you don't lose it all.
Perhaps the bank have supported you with loans or overdrafts. This is a more familiar feeling of pressure for a lot of people. You will need to pay it back, and if the sum is large enough you will have to offer some security to hold the loan – which is usually your house. The business goes wrong and you lose not only the money and your livelihood, but your home.
The other financial pressures include paying people, including yourself. There may be months where you struggle to meet these requirements. Responsible business owners will need to plan ahead, make sure they can pay their staff, rent on business premises, telephone charges, suppliers and VAT if applicable and themselves of course! The most important factor here to help reduce the pressure is careful planning. Try to keep looking ahead, checking to see what you have coming in, and what you have going out. If the sums don't work, look at ways of reducing your outgoings. Address it before the bills start mounting up around you and you are unable to do anything about it.
Time Management
The other major stress factor for business owners is losing any kind of free time they may have enjoyed before! Almost all new business owners will find it a shock to the system, as days start to get longer and weekends shorter. Working 'all the hours god sends' is a common predicament for the entrepreneur and you will need to be prepared for this. Any business owner not prepared to sacrifice their time like this, will find their business moves forward much more slowly than it could do and perhaps could even stutter and fail.
This issue starts to affect business owners as it inevitably affects home and family life, particularly for parents, leading to feelings of stress, tiredness and guilt. Spouses and partners may find it hard to understand why they never see their partner any more and tension can build in the house. If you're a family person, make sure everyone at home understands what is likely to happen and include them in the decision processes when deciding to set up.
Planning and Forecasting
Sometimes it's hard to keep sight of the direction you're going in. Putting together a business plan in the initial stages will ensure that you have some idea of the direction the business is heading in, but keeping in touch with it is important. Otherwise you will end up working hard and not knowing which direction you're going. It's important to make sure you take time out from the day to day running of the business to keep your goals and objectives in sight. Otherwise you'll end up like a headless chicken and it's hard to progress anything without direction.
With any stage of running a business, the key is planning ahead and this will help to keep stress levels and pressure down to a lower level. And make sure you take holidays. Nobody, not even Superman or super woman, can work seven days a week all year without going crazy!
You might also like...