Getting Investment for Your New Business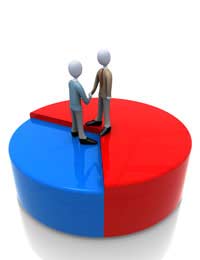 When starting up a business you are definitely going to need to have some funding. Whether that is money you raise or supply yourself, or whether you get it from somewhere else, you will need to go about getting this money in a structured way.
Make a Business Plan
Firstly in order to know how much money you need and what for, it's imperative that you draw up a business plan. This is the same for all businesses and will be the thing that guides the way the business develops.
Financial forecasting for your business plan will help you work out how much money you will need and what you will need to spend it on. Whether it's for your own reference or for your potential investor to look at you will need to have put this into action before you do anything. See the section on this site about putting a business plan together.
Where Does Investment Come From?
Financial support for your business can come from many different quarters and once you have got your business plan together and started to implement the necessary actions you can start to think about where to source your investment.
Your Own Money
Many, in fact most, new businesses start up with some money from the owners themselves and the events industry is no different. This could be a redundancy payoff, savings that have been gathering in an account, or it might be a loan or even an extension on an existing mortgage or property.
It's very much a case of putting your money where your mouth is with this, but be aware that chasing a dream is one thing, being realistic about potential return is another thing entirely. Make sure you have done your calculations and that your dream is rational. You don't want to lose your money.
Banks
Your bank, assuming you have a reasonably long term and healthy relationship with it, may possibly be interested in helping out with a loan or possibly an overdraft. Borrowing money as opposed to seeking investment has pluses and minuses of course – if you borrow money for example from the bank you will not need to give away any shares, but you will always pay interest, setting up fees and will have to pay it back, regardless.
If you already have some investment, then overdrafts can be a great buffer zone for tight months, meaning you are only charged interest when you use them. Banks will want detailed forecasting as part of the business plan, like all investors, so make sure you have that information before approaching them.
Private Investors
Whether this is a business associate, a friend or family member or even a venture capitalist the rules are the same. Clear, concise business plan and financial forecasting, and a realistic expectation on the returns. How many shares are you prepared to give away? What sum do you need? There are companies that specialise in finding investors for businesses but they also charge fees so be aware of this potential cost. Make sure you check any agreements carefully.
Grants and Funds
Aside from investment or loans, there may be grants available for start up businesses, but you will find you need to fulfil certain criteria to qualify for these. Start by talking to your local Business Link advisor who will be able to tell you more about these.
You might also like...